Do you suffer from inflamed gums or do your gums bleed after brushing? If you said yes to either of the questions, you might be suffering from gum disease. Although gum disease often produces these visible symptoms, many people still suffer from the disease without knowing they have it.
It is important to treat this relatively common condition as early as possible, to ensure it doesn't produce any further problems to your dental health. To help you keep your gums healthy and notice the symptoms early, here's a little guide to understanding the disease.
Why Might You Get Gum Disease
If you run your tongue across your teeth, you can probably feel a small film on top of your teeth. This film is bacteria called plaque which is what causes gum disease. If you don't regularly brush your teeth, plaque will build on and in between your teeth, and will start to irritate your gums. This might end up causing the gum to move away from the tooth, which could end up creating larger pockets where more plaque is able to build up.
Two Common Forms of Gum Disease
There are currently two common forms of gum disease. These are:
Gingivitis – an inflammation of the gums and often the first form of gum disease. Symptoms include red and swollen gums and occasional bleeding.

Periodontitis – if gingivitis is left untreated, it can develop into periodontitis. If you suffer from periodontitis, the bacterial plaque is much more devastating, destroying the gums, which could eventually even start destroying the bones that hold your teeth, resulting in tooth loss in the worst case scenario.
The Symptoms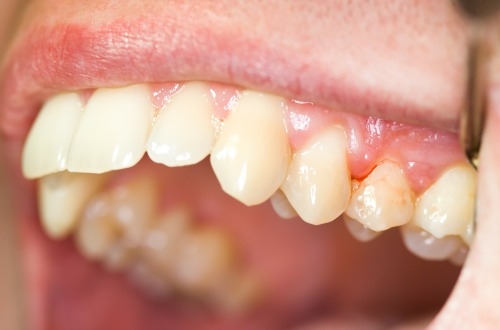 As mentioned above the main symptoms include bleeding and swelling. Your gums might also feel irritated. Tooth loss is also a common symptom, especially if you suffer from periodontitis. Your gums should have a healthy pink colour and if you notice any difference in the colour, even if you don't suffer from other symptoms, you should contact your dentist.
How to Treat Gum Disease?
The best way to ensure your teeth and gums stay healthy is naturally with preventive care. It is essential that you brush your teeth at least twice a day and floss your teeth regularly as well. You could even use special mouthwash to help prevent plaque from building up. Furthermore, you also need to visit a professional dentist regularly. Regular dentist visits can help your dentist to spot any possible gum disease symptoms early and ensure the condition doesn't get worse. If you do notice symptoms of gum disease, you should book an appointment with a NHS approved dentist immediately. Your dentist or a dental hygienist will clean your gums in a process called 'scaling'. You can also get further tips on how to reduce plaque build up. It is also recommended to use a product called chlorhexidine. For instance, dental care products, such as Corsodyl, have this ingredient in most of their products. Chlorhexidine has been shown to actively help remove plaque.
Remember to look after your teeth, as a healthy mouth doesn't just guarantee a better overall health, but it also ensures you have a lovely smile.

Author:
Ivan Dimitrijevic
Viewed:
62 Views

Check Out All Of Ivan Dimitrijevic's Blogs!
Comments: